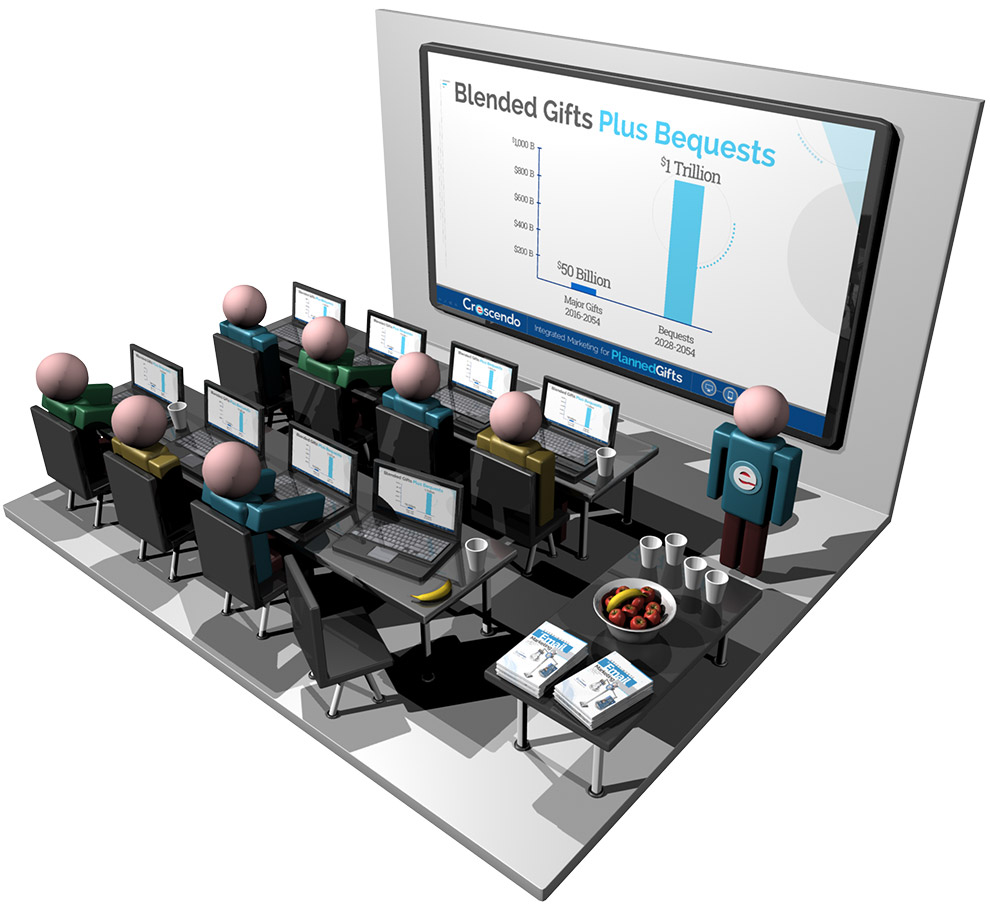 Blended Gifts Overview (14 min)
Blended Gifts Seminar
Successful charities are achieving their fundraising campaign goals through blended gifts. If you are a major gifts or planned gifts officer, this session is for you. Learn how to capture a combination of planned and current gifts for your organization using proven marketing strategies and personalized blended gift donor proposals.
This seminar is intended to equip you to offer the most common blended gift strategies to your donors. Learn hands-on with CresPro Software how to create persuasive proposals for 12 gift combinations along with personalized marketing materials. Walk away with the knowledge you need to get started offering and closing blended gifts in or outside of your next fundraising campaign.

Price: $250
Course Outline
Blended Gifts and BoomerTrillion
Blended Gifts Strategies and Exercises

Gift and Bequest
Endowed Gift and Bequest
Gift and Gift Annuity
Gift and Unitrust
Gift and Deferred Annuity
IRA Rollover and Bequest
IRA Rollover and Testamentary Unitrust
Gift Annuity and Bequest
Lead Trust and Bequest
Annuity Contract Gift and Bequest
Unitrust Income Interest Gift and Bequest
Gift and Testamentary Lead Trust
CresPrint for Blended Gifts
Web, Email and Social Media Marketing for Blended Gifts
Analytics to Find Your Best Blended Gifts Prospects
Marketing Success
Schedule
For the 2018 schedule of our Blended Gifts seminars, please visit our Major & Blended Gifts seminar page.
Blended Gifts Overview (14 min)