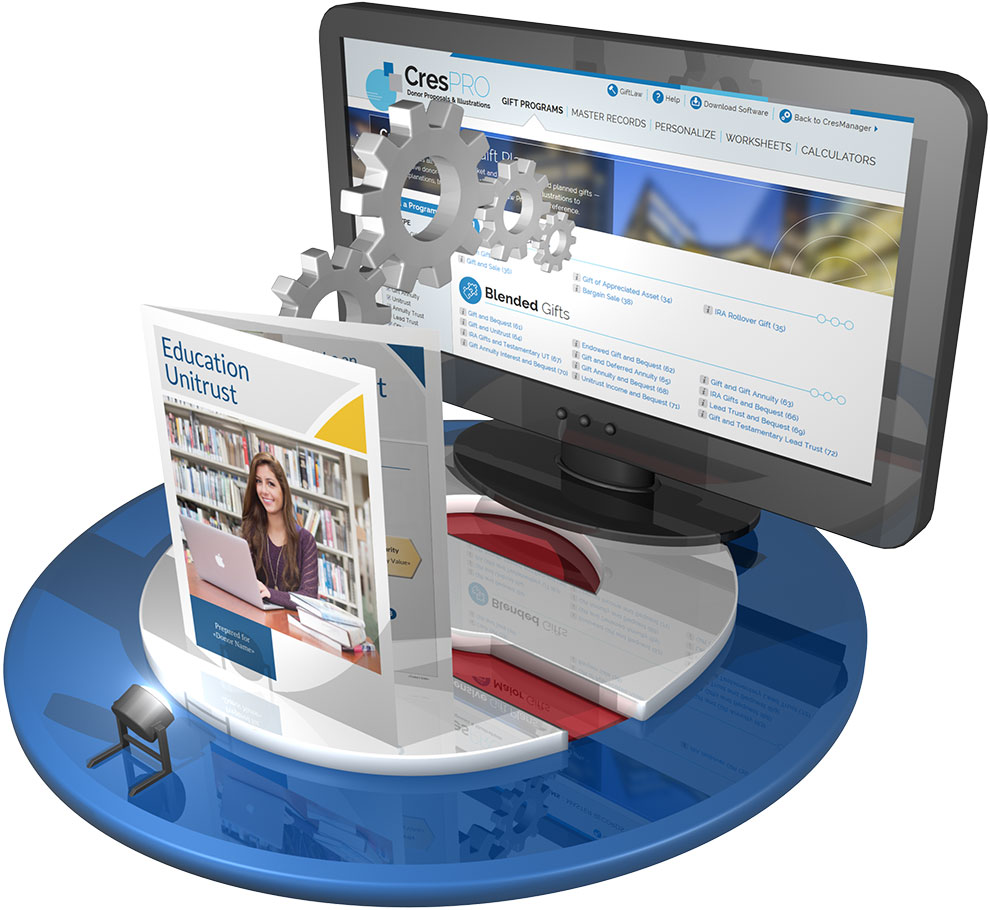 Comprehensive Gift Plans (CresPro)
Crescendo's most popular planned and major gift illustration software, CresPro, is now cloud-based. With the new CresPro online software, Crescendo offers gift planners and major gift officers greater flexibility and unparalleled access to the tools necessary to successfully do their job and close more gifts.
The following are some of the benefits and features of the newly released CresPro cloud software:
Access from Anywhere. You work hard preparing for donor meetings but what do you do when you are traveling and key information is back at the office? CresPro solves this dilemma. Create an initial illustration at the office and make last-minute changes right before a donor meeting. Access CresPro from the road, your hotel and even on airplane Wi-Fi!
Available on Any Device. Apple computer loyalists who have wanted MacBook-compatible Crescendo software have been heard! CresPro works on MacBooks. It also works on almost any web-based device such as PCs, Macs and iPads.
Works with Your Favorite Browser. CresPro has been designed and tested to work with the most popular web browsers: Chrome, Safari, Firefox and Internet Explorer.
Immediate Updates. When meeting with donors, you need to present the most current information. With CresPro, Crescendo attorneys and engineers will update the cloud-based software as necessary, deploying the latest updates to you instantaneously.
Major Gifts Programs. Earlier this year, Crescendo released groundbreaking major gifts illustration software as part of CresPro. Those new blended gifts programs are now already part of CresPro and are cloud-accessible.
Magazine Quality Proposals. Crescendo GiftLegacy Pro clients will be able to take advantage of a new level of enhanced marketing with the new four-page color donor proposal. This feature gives users unparalleled power to customize the proposal with charity branding and personalize the proposal for each donor. GiftLegacy clients can incorporate custom photos, fonts, colors and text in donor proposals in ways that were previously only available to the largest charities.
Secure Data. CresPro software data is saved on Crescendo's secure servers. You can be confident your planned and major gift illustration data is secure.
Data Back Ups. Nothing can be more disruptive than losing years of important data when your computer hard drive fails. Never lose donor illustration data again. CresPro software servers are regularly backed up so important data will be preserved.
If you would like to learn more about CresPro or to receive a demonstration of the power of the new personalized donor proposal, please contact Crescendo.
What People Are Saying
"We are excited about the new CresPro software! The new proposals bring funding opportunities to life with the ability to personalize them for each donor while fully integrating our branding and custom text. We've always relied on Crescendo for our donor proposal software and we've had great success with it. We look forward to enhancing and increasing asks and closing more gifts than ever with the power of the new donor proposal software, CresPro"
Karla Aho
Director of Gift Planning
Michigan Tech University