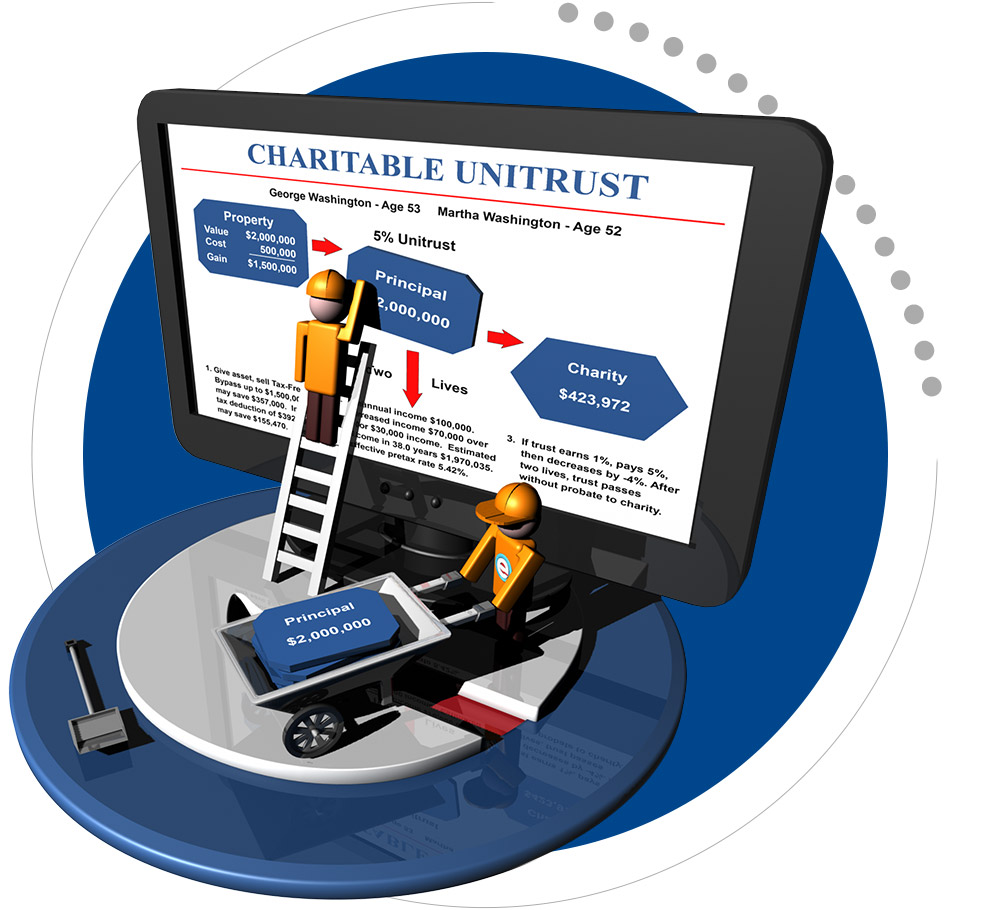 Charitable Tax Proposal (CresEstate)
Easily create charitable tax plans for your donors. CresEstate cloud software features the most common charitable tax plans used by professional advisors (attorneys, CPAs, financial planners and underwriters). CresEstate includes client illustrations, gift calculations, technical explanations and the GiftLaw Pro tax reference.
CresEstate features 16 gift plans.
Price: $300
(Annual service includes technical/content support as well as regular tax and software updates.)
Gift Plans
Please visit our donor proposal software comparison page for the list of gift plans available in CresEstate and our other software.
Software Screen Shots
GiftLaw Pro
CresEstate includes the GiftLaw Pro charitable tax reference service. Available online, it features thousands of pages of information on gift planning strategies and assets. It includes links to relevant Internal Revenue code sections, regulations, rulings, cases and more.
CresEstate FAQs
Click to expand
1. What are the key features of CresEstate?
CresEstate is designed for individuals who want a powerful planned giving software product at a lower cost. It includes our base gift models plus testamentary unitrusts, lead trusts and estate planning programs.
2. What are CresEstate's requirements?
CresEstate is cloud-based software. It can be used on PCs, Macs and iPads, and is accessible by and compatible with the most popular web browsers.
3. What is included with purchase?
A single user, annual license, and a detailed electronic user's manual and planned giving support services.
4. Is demonstration software available?
Yes, fill out our online trial form or call us at 1-800-858-9154.
Free Trial Software Request
For a free demonstration of CresEstate, please complete our trial request form or call us at 1-800-858-9154.