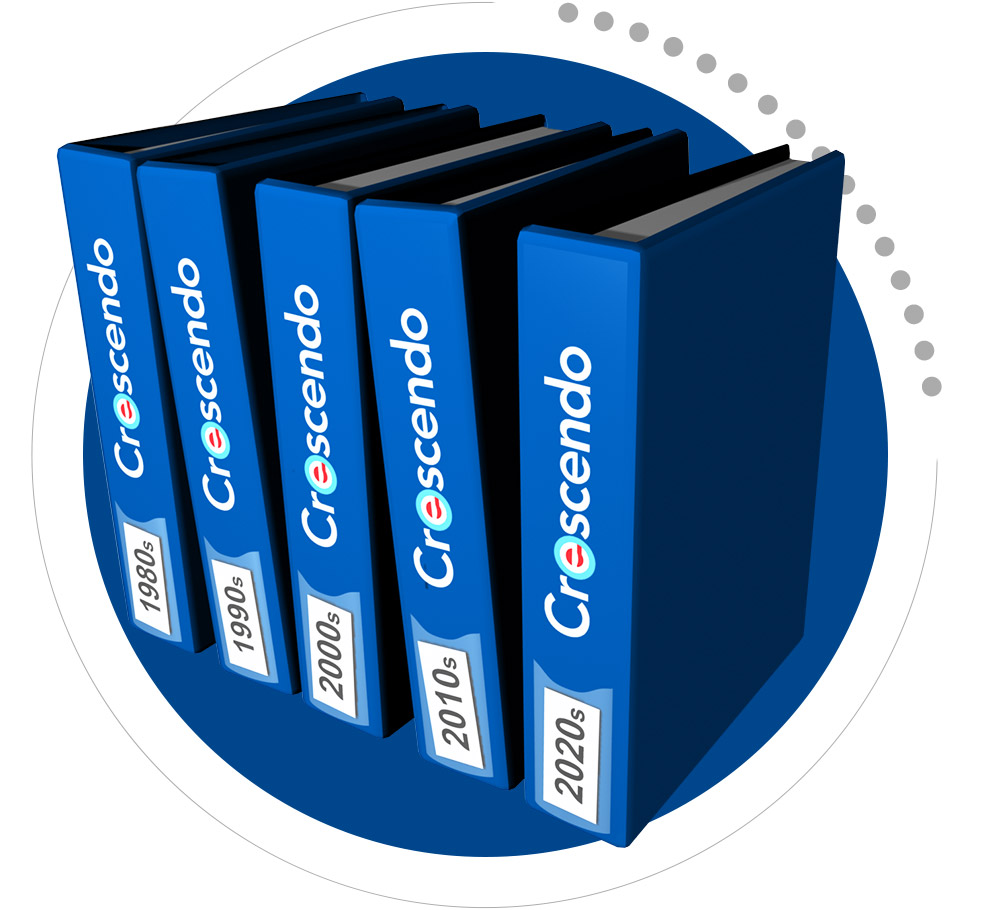 Privacy Policy
CrescendoInteractive.com ("website") is hosted by and is the property of Crescendo Interactive, Inc. ("Crescendo"). Use of this website, and the website's data collection practices, are subject to the terms of this Privacy Policy.
What Information Does this Website Collect?
Categories of information collected by this website include the following:
1. Form Information. "Form Information" is any information you might enter into any online form contained on this website that allows you to communicate with our staff. This includes information you submit through the "Crescendo Contact Form" to contact us and the "Crescendo eNotes Signup Form" used to sign up for our weekly planned giving email newsletter. Typically, these forms ask for your name and contact information and may also provide a section for you to provide comments.
2. Statistical Information. "Statistical Information" is basic information collected by the website about how you use the website and access its content, such as which pages you have visited. Statistical Information may be "device specific" (meaning it involves information about the hardware and operating system you are using); "location specific" (meaning it involves collecting and processing information specific to your location); "log specific" (meaning it involves information about your Internet Protocol (or IP) address and information about webpage visits such as dates, times, duration and referrals that initiated page visits); "enewsletter connected" (meaning your email is included in one of our email distribution lists, in which case the website will associate you email activity such as opens, click-throughs and opt-outs together with other Statistical Information about your interaction with the website, such as browser history); and "cookies" (which involve technologies to collect information when you visit the website).
How is Information Collected from this Website Used by Crescendo?
Form Information and Statistical Information collected by the website is information that belongs to Crescendo and will be used by Crescendo consistent with the permissions and limits of this Privacy Policy. All Form Information submitted through the website will be viewable by and accessible to Crescendo staff. In order to ensure that any Form Information is directed to the appropriate person on our staff, such information may be forwarded by email to a member of our staff or others who may need access to such information. Statistical Information will be made available to Crescendo staff and may be used by Crescendo and our staff for marketing, statistical analysis, support, service, payment processing and any other purpose Crescendo deems appropriate such as compiling a user activity profile to market planned giving information that might be most relevant or of greatest interest to you.
Interaction with "Do Not Track" Settings
Crescendo is making the following statement in compliance with California's Online Privacy Protection Act of 2003 ("OPPA"): If your website browser is set to "do not track," collection of any information by the website will conform to this Privacy Policy, regardless of whether your website browser is set to "do not track."
Protect Your Personal Information
None of the features on this website are designed to collect or manage information that might be regarded as sensitive in nature, including information defined under state law as Personal Information or Personally Identifiable Information (hereafter "PI"). PI is often defined as a first name or initial and last name together with a Social Security number, your driver's license number and/or information needed to access financial accounts. Please take care to protect sensitive information and avoid transmitting sensitive information through the website. If you have a need to transmit sensitive information, please contact Crescendo by phone by calling 800-858-9154 for specific instructions on how to securely transmit sensitive information to our company.
EUROPEAN UNION PRIVACY RIGHTS NOTIFICATION
This section of the Privacy Policy only applies to persons defined as a "data subject" by the European Union's ("EU") General Data Protection Regulation ("GDPR"), which went into effect on May 25, 2018. GDPR is designed to protect the privacy rights of EU data subjects and this section of the Privacy Policy contains information about a data subject's rights.
1. Right to Notice. A data subject has the right to be notified about how his or her personal data will be stored or used. Consistent with those rights, you are advised that: (a) the website is hosted by and for Crescendo; (b) Crescendo is based in Camarillo, California in the United States; (c) Crescendo's servers are based in the United States; and (d) this website is hosted on Crescendo's servers.
2. Right to Manage Data. A data subject has: (a) the right to request a copy, or report, of any personal data that Crescendo has collected about the data subject; (b) the right to correct or rectify any personal data that is incorrect; and (c) the right to "be forgotten" which means the data subject can request to have his or her personal data held by Crescendo erased or deleted.
3. Right to Object. A data subject has the right to object to and restrict the processing of his or her personal data. This right includes the right to object to processing of personal data for purposes of direct marketing. To exercise this right, any person may use the "unsubscribe" features contained in the footer of any email marketing communication sent by Crescendo.
4. Right to Notice Concerning Data Retention. A data subject has the right to understand how data related to the use of any website will be used. Crescendo will never does not share the data collected by this website with third parties. Data collected by Crescendo will be retained on a case-by-case basis, depending on: (i) the nature of the data; and (ii) the reason for its collection.
Under GDPR, Crescendo is acting as a data "controller" and Crescendo is responsible for responding to any requests about any data subject's rights under GDPR. To contact Crescemdp, please send an email to privacy@cresmail.com.
Updates to Privacy Policy
This Privacy Policy has been created and approved by Crescendo Interactive, Inc. This Privacy Policy may be periodically revised and updated from time to time to reflect the current status of Crescendo's products, services, our servers and technology, and/or to keep current with any legal requirements concerning online privacy. Any revisions to this Privacy Policy will be posted at this URL. You may submit inquiries about this Privacy Policy and any questions regarding your options to review, modify or delete previously provided information by emailing privacy@cresmail.com.
Links to Other Sites
This Privacy Policy applies to this website. You may encounter links to other websites, such as a client website or one that processes credit card payments. Please be aware that Crescendo is not responsible for the information practices of these third party organizations. If you have comments about this website, its content, and any associated emails please direct comments to privacy@cresmail.com. Comments concerning the websites of external organizations should be directed to the external organizations named on those websites.
This website is informational and educational in nature. This website is not offering professional legal, tax, accounting, financial or estate planning advice. All persons who use information from this website must seek their own independent and qualified professional advice. For specific advice about the effect of any gift planning concept on your legal, estate planning, tax, accounting or financial situation, please consult a qualified professional advisor.
Effective Date: May 25, 2018