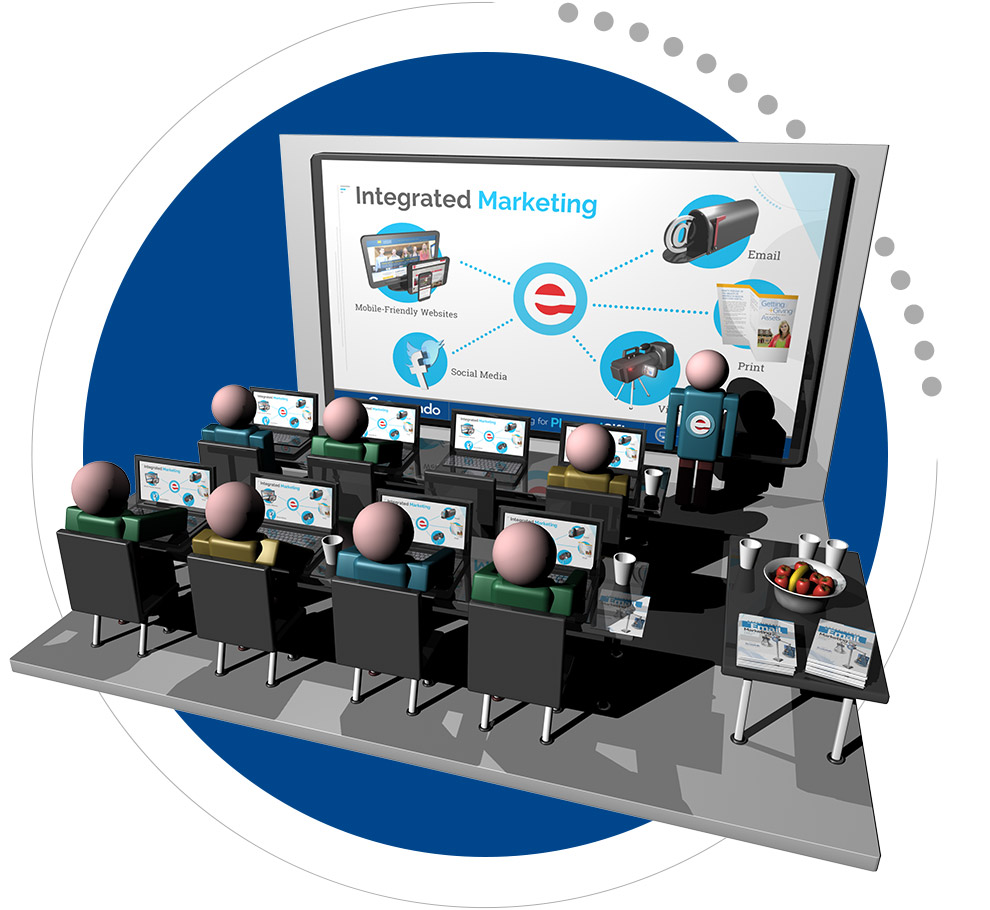 Integrated Marketing Seminar
What types of messages resonate with donors? What keywords and phrases prompt donors to act? The Integrated Marketing Seminar will provide insights into positive marketing messages and share successful examples of messaging that works. You will walk away with practical ideas for web, email, print and social media marketing to help you engage your donors and close more gifts.
Course Topics
Messaging that Works
Multichannel Marketing
IRA Rollover
Charitable Gift Annuities
Gifts of Real Estate and Charitable Remainder Trusts
Bequests and Beneficiary Designations
Legacy/Heritage Society
Print Marketing
Donor Proposals
CresManager
CresSurvey
CresLite and CresMobile
GiftCollege
CresCoaching
Schedule
LOCATION
Date(s)
PRICE
Integrated Marketing
Camarillo, CA
6/13/2023 - 6/13/2023
8:30am - 3:30pm
$0.00
Integrated Marketing
Virtual (Live Webcast)
6/13/2023 - 6/13/2023
8:30am - 3:30pm
$0.00
Integrated Marketing
Orlando, FL
9/20/2023 - 9/20/2023
8:30am - 3:30pm
$0.00
Integrated Marketing
Camarillo, CA
10/11/2023 - 10/11/2023
8:30am - 3:30pm
$0.00
Integrated Marketing
Virtual (Live Webcast)
10/11/2023 - 10/11/2023
8:30am - 3:30pm
$0.00
What People Are Saying
We are proud to have had the following organizations, among many others, as part of our planned giving seminars:
"I found the entire seminar packed with relevant and exciting new ways to market our planned giving instruments. I will use this information immediately. This was a very practical seminar! The presenters were very open and friendly, and explained the complex topics in an easy to understand way."
— Connie Jeffery
Trust Development Officer
SDA - Southern California Conference
"Crescendo has so much to offer. I've been using their products and services for five years now, and every time I think I have a good handle on usage, I learn other things, new ideas, etc. that I can do to enhance my legacy giving program. "
— Lois Kundel
Sr. Development Officer
Palmer College of Chiropractic
"There is an amazing amount of capability and resource within Crescendo products. I am looking forward to discovering more ways to tap into it!"
—Anna Robbins
Donor Relations Assistant
Opportunity International
"The content of the seminar was wonderful, useful and immediately spurred ideas that I can act on in my upcoming newsletter. This seminar is valuable to both the planned giving professional and the marketing professional. Crescendo's marketing system is easy to use, fully inclusive, cost effective and will increase giving to your charity. Investing in a relationship with Crescendo is a win, win! Crescendo offers so much value added for staff and board members at an unbelievably inexpensive cost! "
—Judy Feig
Executive Director Planned Giving
Jewish National Fund
"I have been working with Crescendo since September on this. There is not a single person there who has not been amazing to work with. When I attended my last seminar, I told Charles that I have never had such a gratifying and well supported experience than I have enjoyed working with the Crescendo staff. I truly am so grateful to you all! "
— Micki McCarthy, CGPA
Director of Planned Giving
OSF Healthcare Foundation
"I have attended several seminars over the years. I always find them to be full of fresh content, relevant to those of us involved in planned giving and raising major gifts and practical in its application upon return to the office. Crescendo is just the best! I find the seminar offerings always have topics of interest and are taught by qualified professionals who work in the area they are teaching. The chance to meet people from around the country who do what we do is also invaluable. Also, Crescendo is always coming out with new and improved ways to use and market gift ideas, and seeing those and getting some training on how to use new ways to present ideas to prospective donors is extremely helpful. Crescendo is always one step ahead and it's great to hear about how to do what we do in new and better ways."
— Robert Cathcart
Executive Director
In His Steps Foundationn
"I wanted to let you all at Crescendo know that your Provide and Protect wills workshop ideas, materials and support have been very valuable to the Area Foundation. We have had 2 workshops this year and have drawn in donors and volunteers who did not previously have planned gifts for the Foundation. We have been notified of two bequest gifts as a result of the workshops - one of them was promised even though the person could not come to the workshop! You have made it very easy to put on these workshops and have also given us the impetus and confidence to do them. Thank you! "
—Kathleen Finck
Director of Planned Giving
San Antonio Area Foundation
"Besides the nearly 250,000 page views on our GiftLegacy site, some of our successes included the Wills campaign to encourage charitable bequests this past year. The Wills campaign resulted in over 156 partners requesting the CBN Wills Guidebook and bequest information. 77 partners have communicated they are naming CBN and OBI as beneficiary in their estate plan. We have received current partner verifications naming CBN and OBI (Operation Blessing International) as beneficiary in 13 bequests already. In addition, several large bequests are expected to be put in place by partners in the near future. "
— Frank T. Nico
CBN PLANNED GIVING
"The University of Texas Health Science Center Houston received the CASE District IV "Most Improved Planned Giving Program" for 2010! The GiftLegacy eMarketing System was a critical foundation for our success. Increasing our GiftLegacy eNewsletters from bi-monthly to weekly increased our planned giving page views by approximately ten-fold. We are receiving 3-4 responses per week from our GiftLegacy website and personalized eNewsletters. Six new bequests including ones for $250,000 and $100,000 are documented eGifts. Currently we have received 23 requests for the Wills Guide. The GiftLegacy System is so comprehensive and valuable! "
— Shirley Druggan
Director of Gift Planning
University of Texas Health Science Center
"Crescendo makes a big job simple, providing all the resources needed to run effective planned giving campaigns - and their level of customer service is superb!"
— Cathy Gillespie
Co-Chair
Constituting America