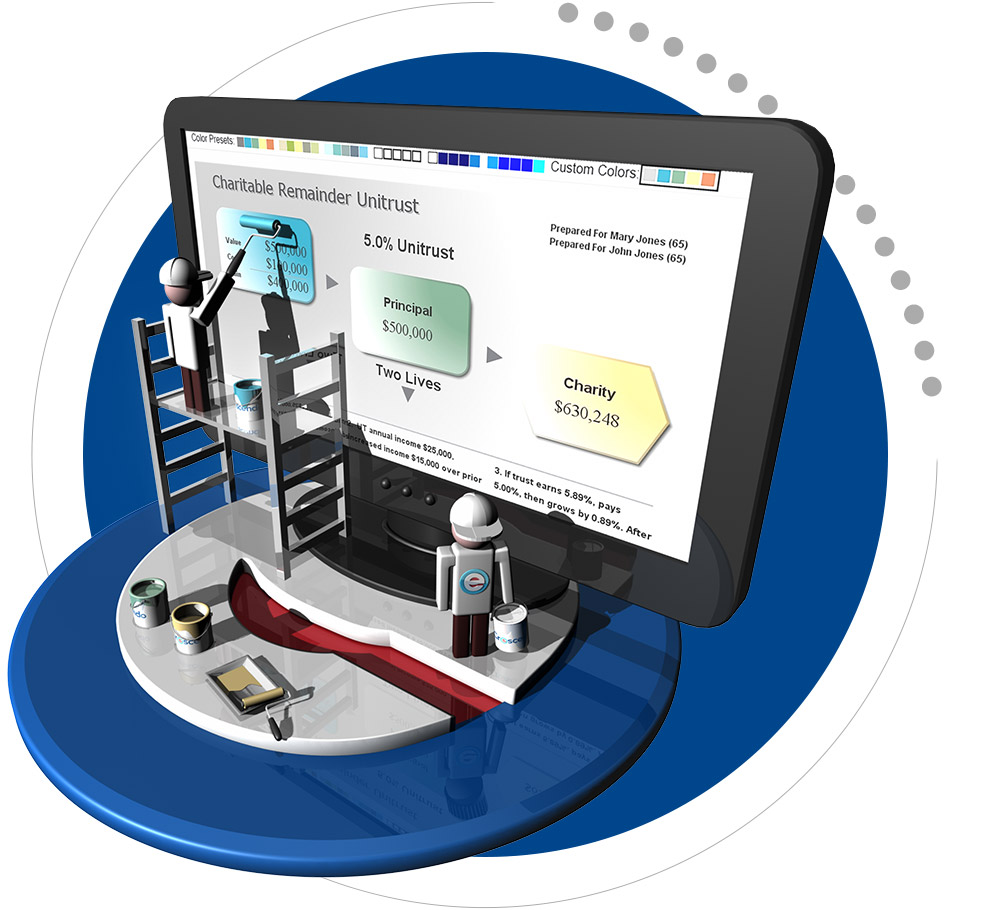 Comprehensive Gift Plans (Crescendo Pro)
Crescendo Pro software produces everything you need to close major and planned gifts — from persuasive donor-friendly proposals with personalized illustrations to detailed technical explanations, trust documents and GiftLaw Pro, our tax reference service.
With a user-friendly interface, Crescendo Pro is designed to help gift planners illustrate and close planned gifts, regardless of their experience and knowledge. Our in-house team of attorneys provide customer support five days a week.
Price: $1,590
($995 software + $595 annual service, which includes legal support as well as semiannual tax and software updates.)
Gift Plans
Crescendo Pro offers more than 50 gift plans you can use to build gift planning proposals and meet the needs of your donors:
Gift Annuities:

Current
Deferred
Flexible

Unitrusts:

One to Eight Lives
FLIP Unitrust
Term of Years
Life Plus Term of Years
Education Unitrust
Retirement Unitrust
Sale/Unitrust
Home Sale/Unitrust
Sale vs. Unitrust
Unitrust and Insurance
FLIP Term of Years

Annuity Trusts:

One and Two Lives
Three to Six Lives
Term of Years
Education Annuity Trust

Lead Trusts:

Lead Unitrust
Lead Annuity Trust
EZ Lead Trust
Double Discount Lead Trust
Lead Supertrust
Blended Gifts:

Current Gift and Bequest
Endowed Gift and Bequest
IRA Gifts and Bequest
IRA Gifts and Testamentary Unitrust
Current Gift and Gift Annuity
Current Gift and Deferred Annuity
Gift Annuity and Bequest
Gift of CGA Interest and Bequest
Current Gift and Unitrust
Gift of Unitrust Income Interest and Bequest
Lead Trust and Bequest
Current Gift and Testamentary Lead Trust

Gifts of Home:

Life Estate Reserved
Annuity for Home
Bargain Sale

Pooled Income Funds
Software Screen Shots
Features
Gift Analysis - You have the ability to compare up to eight different gift plans and analyze which one is best for your donor.
Custom Print Options - From illustrations to personalized letters, Crescendo Pro features more than 20 different print options.
Detailed Explanations - From the simple to the complex — whatever best helps donors understand their gift plan — our in-depth explanations provide the right answers donors and advisors need.
Help Systems
Video Assistance - Through GiftCollege, our interactive elearning service, we provide video education and best practices for closing all types of gifts.
GiftLaw Pro - Available online, our charitable tax reference service features thousands of pages of information on gift and estate planning strategies. It includes links to relevant Internal Revenue code sections, regulations, rulings, cases and more.
Help System - This context-sensitive advisory tool assists with data entry and enables you to search for specific topics.
Calculator - A handy tool that quickly determines life expectancies, gift annuity rates, income and estate taxes, present values and more.
Manual - A complete user's manual with operating procedures, search features and helps.
GiftCollege - A comprehensive online planned giving education program with more than 100 videos and supporting text.
Free Trial Software Request
For a free demonstration of Crescendo Pro, please complete our trial request form or call us at 1-800-858-9154.
Crescendo Pro FAQs
Click to expand
1. What are the key features of Crescendo Pro?
Crescendo Pro's trademark is the easy to understand illustrations that communicate gift concepts to donors. Our personalized presentations are both powerful and persuasive.
2. What are Crescendo Pro's requirements?
Windows compatible operating systems. Required hard disk space is 250MB.
3. What is included in the purchase of Crescendo Pro?
Software CD, a detailed electronic user's manual as well as computer and planned giving support services.
4. Can the software be installed by the user?
Yes. The software comes with simple installation instructions. For some Windows operating systems, you may need administrator's rights to install.
5. What kinds of organizations use Crescendo Pro?
Colleges, universities, healthcare organizations, social service organizations, religious organizations, financial professionals, CPAs, attorneys, CLUs, banks and more.
6. Can you load Crescendo Pro on a network?
It can be installed on a network and operated by a single user.
7. Is a demonstration of the software available?
Yes. Please call us at 1-800-858-915 for a FREE trial of the complete Crescendo Pro system.
8. What kind of training is offered?
Crescendo offers seminars which include both hands-on computer and planned giving training. Our two-day Comprehensive Seminar teaches the basic programs of Crescendo and features both computer training and gift planning concepts essential to making proposals and presentations to donors. Our two-day Advanced Seminar is for experienced users and highlights the more complex programs including options for funding education and retirement, the lead trust, charitable estate planning models, family corporations, unitrust insurance replacement and testamentary unitrusts funded with IRAs.
9. What is the cost of training?
Please visit our training section for a complete description of our training services and cost.
10. Where are trainings held?
Most seminars are taught at the Crescendo computer classroom in Camarillo, California. In addition, Crescendo provides computer and planned giving training in major cities each year. Please check our our training schedule.
11. What technical support is offered?
Crescendo is known across the country for its uncompromising service and expertise. No other company provides so much in-house planned giving education and support. Charles Schultz, J.D., author of Crescendo, has extensive background in planned giving and his team of tax law experts are available to give users the support and charitable expertise needed to create proposals and close planned gifts.
12. What is included with support?
Crescendo's service contract includes unlimited telephone support, tax updates, weekly emails, quarterly Crescendo Notes enewsletter, "Rate of the Month" letters and annual program enhancements. Crescendo also offers educational seminars featuring both hands-on computer and planned giving training.