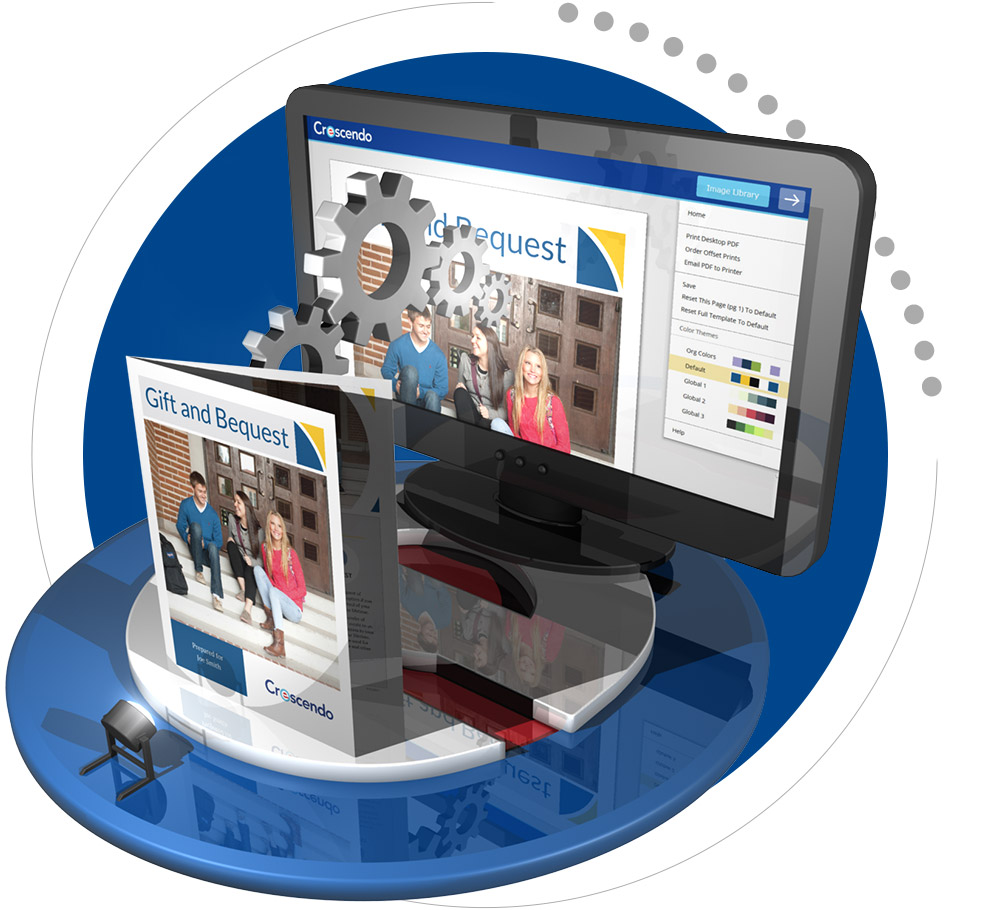 Major & Blended Gifts Seminar
Your donors have more reason than ever to make major, blended and planned gifts under the new tax law. The Major & Blended Gifts Seminar will provide the tools to conduct successful donor visits and create custom donor proposals like those used by charities engaged in billion dollar campaigns — at a fraction of the time and cost. Learn how to approach donors for major gifts, illustrate the benefits of blended and planned gifts and produce motivating and effective presentations to close these gifts.
CresPro cloud software includes new four-page color donor proposals for major, blended and planned gifts. Available to GiftLegacy Pro users, these "magazine‑quality" proposals can be customized using your branding, images, personalized text and more. Discover the power of CresPro proposals to motivate donors to make major, blended and planned gifts.
Price: $250
Course Topics
Gift Boom in 2018
Closing Major Gifts Presentation
Gift of Cash, IRA Rollover Exercise
Blended Gifts: Gift/Bequest, Endowed Gift/Bequest
Blended Gifts Exercises
CresPrint/Donor Proposals
Donor Proposal Exercise
Gift Case
Blended Gifts: CGA/Bequest Gift/Unitrust
IRA Rollover/Bequest IRA/Unitrust
Motivating and Effective Presentations
Blended Gifts Demonstration
Schedule
LOCATION
Date(s)
PRICE
Major/Blended Gifts
Orlando, FL
9/19/2018 - 9/19/2018
$250.00
Major/Blended Gifts
Cincinnati, OH
10/15/2018 - 10/15/2018
$250.00
Major/Blended Gifts
Detroit, MI
10/16/2018 - 10/16/2018
$250.00
Major/Blended Gifts
Minneapolis, MN
10/17/2018 - 10/17/2018
$250.00
Major/Blended Gifts
Kansas City, MO
11/05/2018 - 11/05/2018
$250.00
Major/Blended Gifts
Denver, CO
11/06/2018 - 11/06/2018
$250.00
Major/Blended Gifts
Phoenix, AZ
11/07/2018 - 11/07/2018
$250.00
What People Are Saying
We are proud to have had the following organizations, among many others, as part of our planned giving seminars:
"Crescendo's Blended Gifts Seminar was extremely valuable. The hands on experience was very helpful, and the instruction was outstanding. This is a great seminar for planned giving and major gift officers alike"
— Natalie L. Decker, J.D.
Director of Gift Planning
The Salvation Army Intermountain Division
"The Major & Blended Gifts Seminar is more of what I have learned to expect from Crescendo - quality, value and practical application"
— David C. Hall
Salvation Army
"Crescendo has hit a home run with this seminar. Using the blended gifts concept — the sky's the limit for donors and charity. This seminar has tremendous value for organizations like ours! The information is right on target for incorporating into a holistic charitable gift planning model. I especially liked the marketing/donor education ideas and how the concept will help us build collaborations with professional advisors."
— Terry Balko
Boys and Girls Clubs of America
"The new donor proposal materials are wonderful and could not have come at a better time for me and my organization."
— John Honaman
Major/Planned Gifts Officer
Jesuits Central and Southern