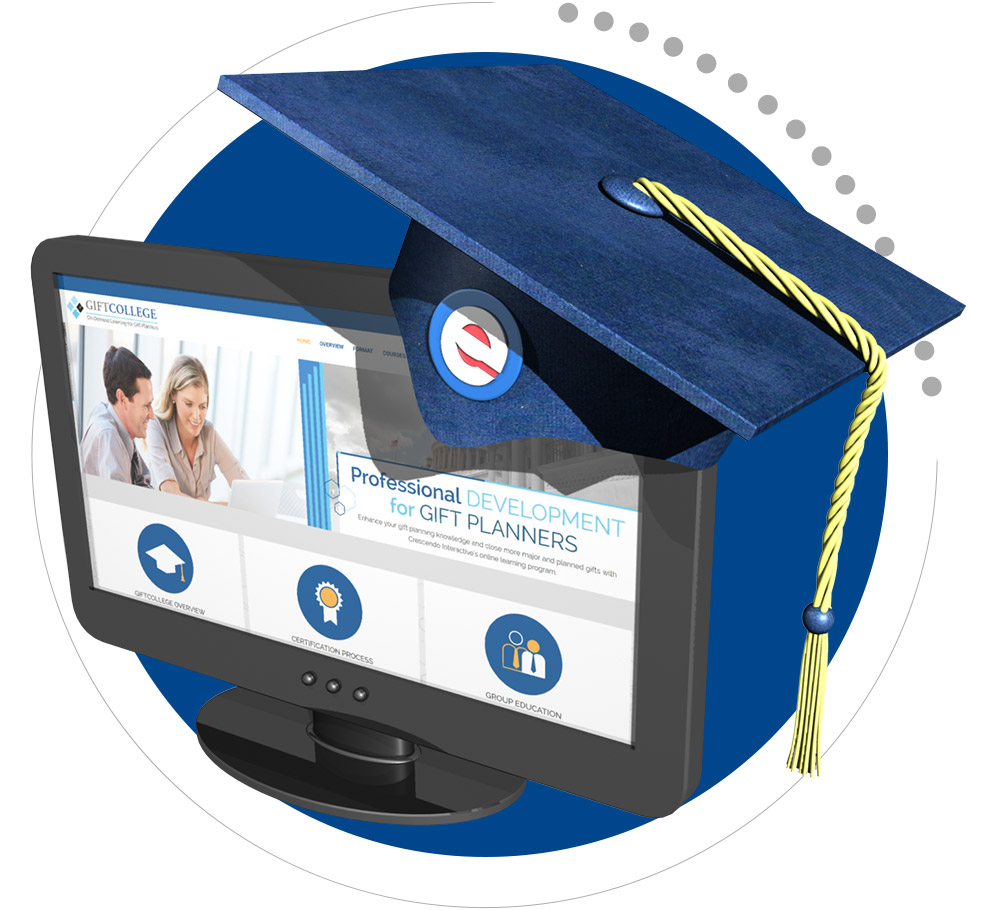 GiftCollege
Enhance your gift planning knowledge and close more major and planned gifts with GiftCollege, our interactive elearning program. Enjoy the benefits, convenience and affordability of GiftCollege. Whether you want to learn more about charitable gift annuities or charitable remainder trusts, GiftCollege permits you to customize the curriculum to meet your goals.
Centered around Crescendo's GiftLaw Pro charitable giving guide, GiftCollege provides webcasts with reading assignments and online quizzes to test your knowledge.
Convenient and Comfortable
GiftCollege provides a unique environment for gift planners nationwide to expand their knowledge from the comfort of their home or office. It's a great way to improve your skills and understand how to close major planned gifts. Webcasts can be viewed at your convenience through our on demand program.
Affordable Pricing
GiftCollege is designed with an emphasis on quality education. Our basic price is $49 for a single session that includes a webcast, two GiftLaw Pro subchapters and a quiz. Licensed Crescendo software users may purchase 10 sessions for $100.
Continuing Education
GiftCollege also provides continuing education hours for classes for a variety of organizations. If you are currently a Certified Fund Raising Executive (CFRE) or a Certified Specialist in Planned Giving (CSPG), GiftCollege credit counts for your continuing education hours.
GiftCollege Certification
GiftCollege offers both the Certified Gift Planning Associate (CGPA) certification and the Charitable Gift Planning Professional (CGPP) certification as part of its program. Participation in this program is available to everyone.
Group Education
GiftCollege is designed for organizations to work together toward a common goal. Supervisors within the organization can track the performance and progress of field staff.
Visit GiftCollege.com